Asphalt Plant Baghouse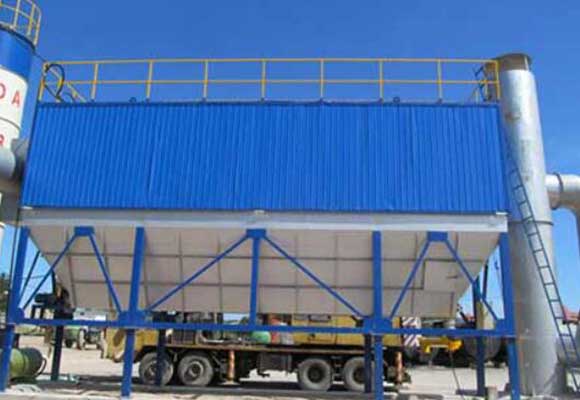 High dust removal capacity, smart temperature control system, durable fiber filter bags, LUTON asphalt plant baghouse is exceptional and works perfectly in job sites.
Able to control the dusty emission within 20 mg/Nm3, our asphalt plant baghouse is ultra environmentally friendly.
---
Specifications
| | | | | |
| --- | --- | --- | --- | --- |
| Model | Baghouse Filtering | Exhaust Fan Power | Total Power | |
| YLB800 | 300 m2 | 30 kW | 185 kW | |
| YLB1000 | 380 m2 | 45 kW | 270 kW | |
| YLB1200 | 400 m2 | 55 kW | 300 kW | |
| YLB1500 | 500 m2 | 2 x 45 kW | 390 kW | |
| YLB2000 | 550 m2 | 2 x 55 kW | 500 kW | |
---
Why Choose LUTON Asphalt Plant Baghouse?
1. High Dust Reduction Capacity with Low Power
LUTON is able to filter 300 m2 to 550 m2 dust and gas emission in relation to the different models.
With such a high power to absorb dusty air, our baghouse only consumes 30 kW to 55 kW.
If you pursue a higher dust filtering, 2 55kW exhaust fan will not disappoint you.
2. Ultra Environmentally Friendly
Coupled with the regular work of gravity dust collector and the baghouse filter, the dusty gas emission is less than 20 mg/Nm3.
3. Durable Bags and Low Maintenance Cost
Dopont Nomex fiber filter bags are highly resistant to the high temperature, thus contributing to less leakage, easier maintenance and longer lifespan.
In addition to their durability, what makes LUTON asphalt plant baghouse prominent is its ease of replacement. 
4. Intelligent Temperature Control
In order to prevent the excessive heat, the cold air valve begins to work and emit cooling air automatically once it detects that the temperature inside the bags is ultra high.
5. Fast and Thorough Cleaning Technology
High pressure pulse cleaning technology speeds up the cleaning time, enhances the cleaning efficacy, reduces the chance of bag damage, and helps save cost and time on maintenance.
6. Portability
Wanna more portability? To help relocation from one work site to another, chassis is available to your asphalt plant baghouse.
---
Types of Asphalt Plant Baghouses and How Does They Work?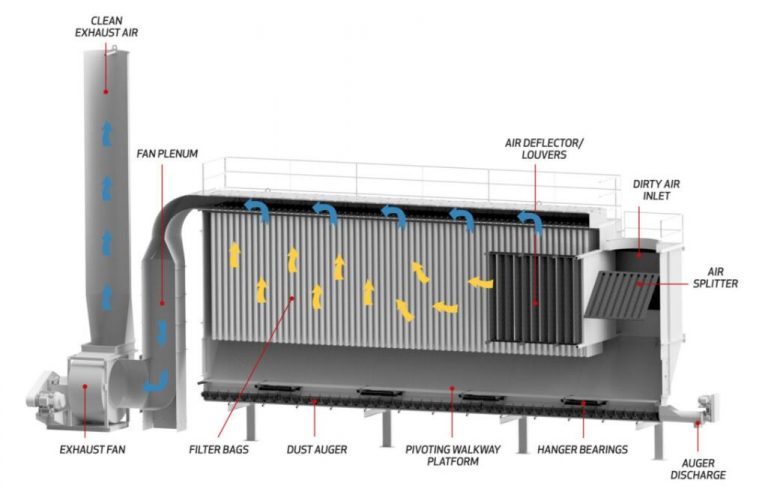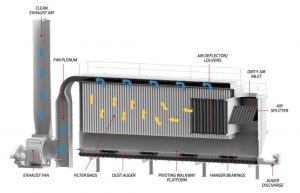 1. Pulse-Jet Baghouse
Pulse-jet baghouse, also named as reverse-pulse baghouse.
It emits compressed air down to the bags and mandatorily expel the dust and harmful gas out of the bags.
2. Shaker Baghouse
A shaker baghouse is a basic type of dust collecting system.
The shaker baghouse collector filters out the dust and cleans the bags by mechanically shaking. It is the motor that works to shake all the coarse and fine powder outside of the bags.
3. Reverse Air Baghouse
Reverse air baghouse is the most commonly used machine in the asphalt plant manufacturing industry.
It has been acclaimed as the most effective unit. 
It works through a restlessly moving exhaust fan that is able to blow the dusty air outside of the bags.
---
Baghouse Dust Collector Maintenance
Correct usage and maintenance contributes to a long service time. There are some tricks about how to maintain an asphalt plant baghouse:
1. Check all the joints before operation.
2. Observe the pulse duration and interval.
3. Check the filter bags condition. Ensure there is no damage or air leakage.
4. Equip with reasonable fine particle recycled machines if reusing the powder is necessary.
5. Turn off the machine if excessive heat occurs.
---
Tips for Baghouse Selection
1. Choose Properly Sized Baghouse
Proper size of asphalt plant baghouse is a must consideration point, as it will limit your production if the machine size is too small and similarly, it will be a waste if the unit size is too large.
Generally, an effectively sized baghouse filter calls for 200 CFM per ton of processing aggregates based on the 5% of moisture content in the aggregates.
2. Choose Durable Filter Bags
If you have a chance to visit the processing factory, you can have a test on the quality and seals of the bags.
The mostly durable filter bags are made of woven, unwoven but with membrane, felted, nylon, and polyester fabric.
LUTON asphalt plant baghouse, with long lifespan bags and effective dust removal capacity, is a positive choice.
Get a Free Quote!
Highly efficient dust filtering, durable stainless steel structure, LUTON asphalt plant baghouse is ultra environmental friendly. Don't hesitate to keep in touch with us today!