Stationary Asphalt Mixing Plant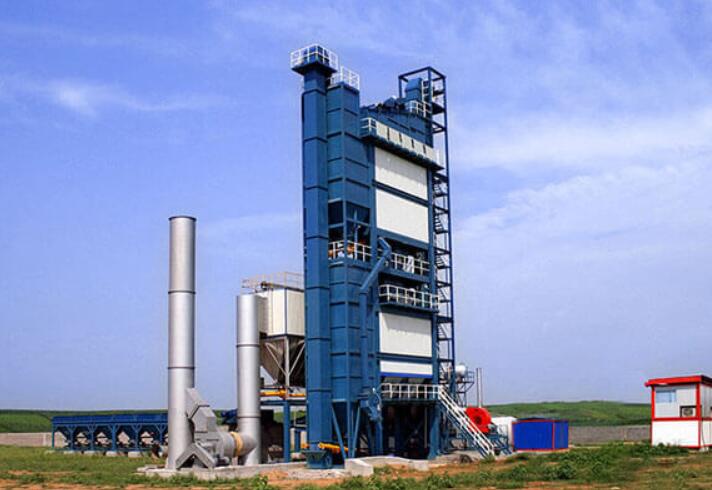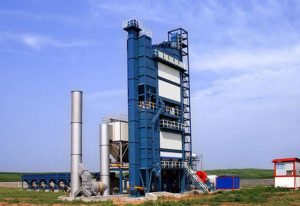 Are you troubled by the heavy and onerous workload but do not know how to solve it? Featured by the High output, premium quality and easy control, the LUTON stationary asphalt plant alleviates your burden of heavy workload.
Experience of more than 22 years shows LUTON's prominence. Own your plant now!
Get A Stationary Hot Mix Asphalt Plant for Concentrated Work Site
LUTON provides multiple types of stationary asphalt concrete plant out of solving customer's problems.
Below are our products in detail.
Stationary Batch Asphalt Plant
LUTON stationary batch asphalt mixing plant is targeted at large or medium-size projects. High capacity and low cost are the most obvious features of our products.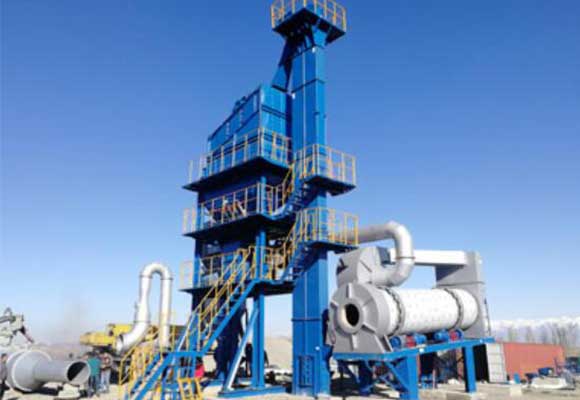 | | |
| --- | --- |
| Model | LB500 ~ LB4000 |
| Output (t/h) | 40 ~ 300 |
| Mixer Capacity (kg) | 500 ~ 4000 |
| Dust Remove Effect | ≤20mg/Nm3 |
| Total Power (kW) | 147 ~ 700 |
| Fuel Consumption (kg/t) | 5.5 ~ 7 |
Small Stationary Asphalt Plant
If your demand for production is not high enough, the LUTON small stationary asphalt plant is suitable to you.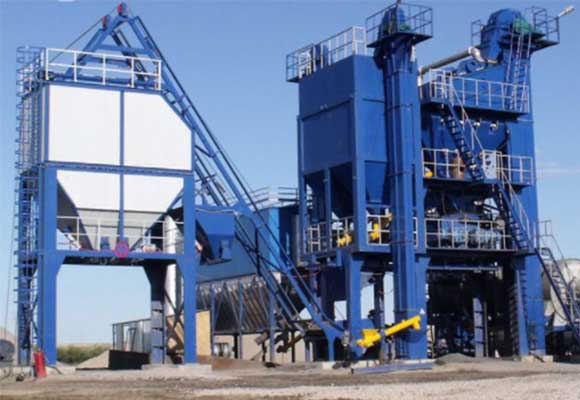 | | |
| --- | --- |
| Model | LTJ10 ~ LTJ80 |
| Output (t/h) | 10 ~ 80 |
| Cold Aggregate Feeding System (m3) | 3.5 ~ 6.5 |
| Asphalt Tank (t) | 10 ~ 30 |
| Asphalt Temperature (℃) | 120 ~ 180 |
Stationary Continuous Asphalt Plant
Apart from the stationary batch mixing plant, LUTON also produces stationary continuous asphalt plant which suits for projects required frequent relocation.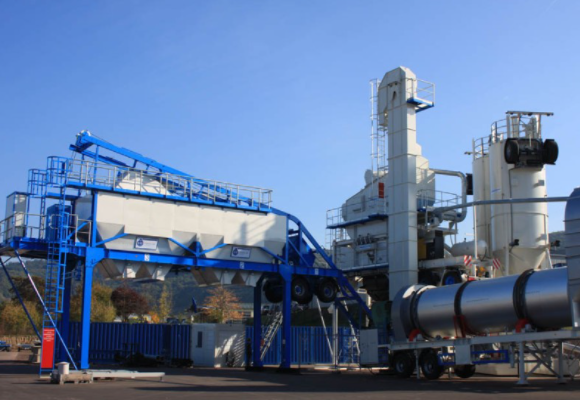 | | |
| --- | --- |
| Model | LTD20 ~ LTD80 |
| Output (t/h) | 20 ~ 80 |
| Hopper Capacity (m3) | 3×4 ~ 4×6.5 |
| Drying Drum Size (mm) | 1000×4500 ~ 1500×6000 |
| Asphalt Temperature (℃) | 130 ~ 160 |
Mini Stationary Drum Asphalt Plant
With the simple components and easy operation, the LUTON mini stationary drum asphalt plant fits constant asphalt concrete small-scale production very well.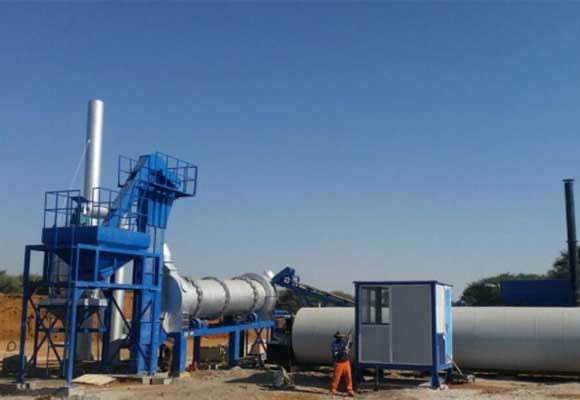 | | |
| --- | --- |
| Model | LTS10 ~ LTS30 |
| Output (t/h) | 10 ~ 30 |
| Cold Aggregate Feeding System (m3) | 3 ~ 5 |
| Finished Asphalt Storage Bin (t) | 2 ~ 9 |
| Asphalt Temperature (℃) | 120 ~ 180 |
Why LUTON Is Popular Among Customers?
High-quality products, preferable price and considerate service are the secrets of our success.
Rich Experience
Started from 1999, the past 22 years have witnessed the rapid development of Luton Group, and its products have been sold over 100 countries.
High Recognition
Recognized by many professional organizations at home and abroad, LUTON is worthwhile to be trusted. With 6 national patents and recognition of the certification of 9001:2000 quality management system, CE (European Standard) as well as BV certificates, LUTON deserves your trust.
Considerate Service
Adhering to the business philosophy of "Quality First, Customer First", LUTON provides considerate pre-sales and after-sales service so that you own a good experience.
Professional Team
With over 1000 professional staff specializing in different departments, LUTON provides products with satisfying design and proficient technology. It also offers a considerate service for you.
Let LUTON Stationary Asphalt Plant Boost Your Business
What makes LUTON's tar mixing plant stand out from other's? Here are reasons.
Premium Quality
Twin shaft horizontal mixer, special vibrating screen system, high pressure bitumen pump promote the quality of end product as much as possible. 
Easy Control
With PLC(Siemens) system, even laymen can grasp the way of operation at ease. The speed of the belt feeder can be changed if you want.
Large Output
LUTON stationary blacktop plant's capacity ranges from 40t/h to 320t/h.
If the end product, the asphalt concrete, is for commercial use, stationary bitumen plant is your best choice.
Because this situation does not require mobility at all. What it offers is high output and high efficiency, which lives up to the features of the stationary plant.
Save Costs in Long-Term Use
If you do not need to change your location frequently, the stationary bitumen plant can save your cost for long terms.
Mobile asphalt plants are designed in a relatively complex way with a view to achieve the effect of mobility, causing a higher price in the long run.
Get LUTON Long-Lasting Components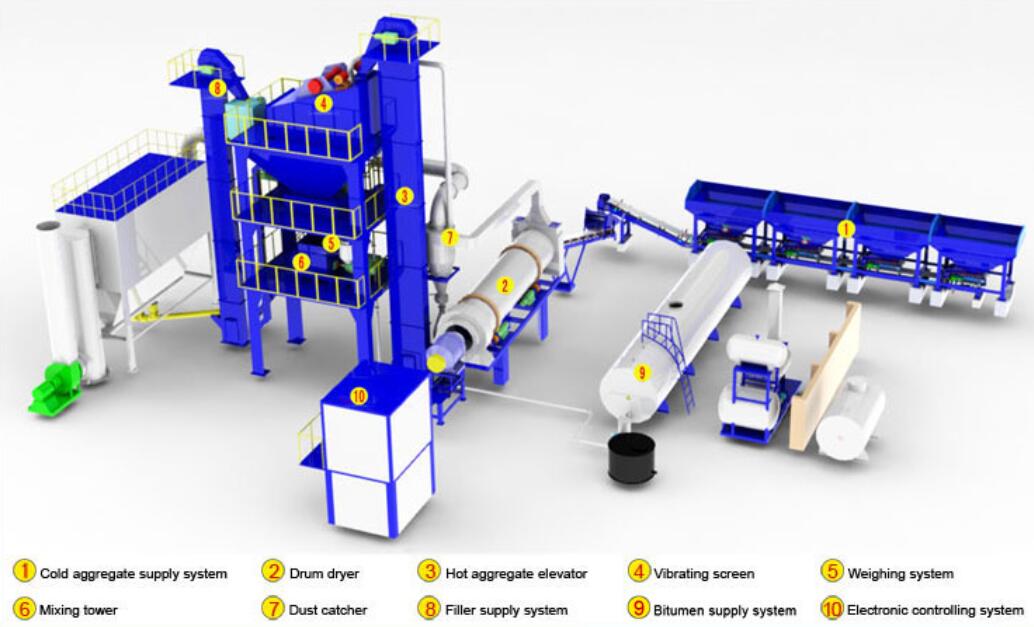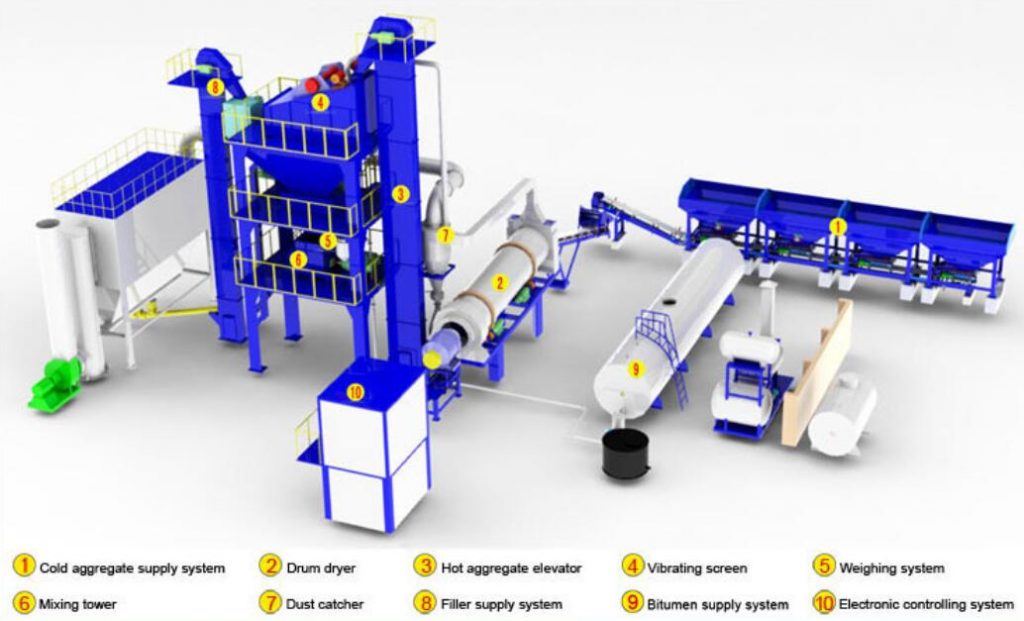 Cold Aggregate System
The belt feeder is connected to the control room, so elements like frequency of the belt can be controlled easily. This makes the transfer of aggregate system very flexible.
Drying System
The dryer drum boasts high quality thermal insulation which is made of stainless steel. The steel alloy can also make the heat expanding evenly.
Dust Collecting System
With the help of primary gravity dust collecting and secondary bag house dust collecting, the problem of pollution can be settled at ease.
Vibrating System
LUTON's special design such as the choice of material meets customers' fundamental needs. The screen cloth is made from 65mn steel wire, which can extend its service life.
Weigh Bucket System
The ratio of mixture is more accurate owing to primary coarse measurement and secondary measurement.
Bitumen Supply System
Thanks to insulation device and heat conduction oil heating device, the heat loss will be prevented and the temperature can remain at a certain level. High pressure bitumen pump ensures the even distribution of bitumen.
Mixing System
Double shaft and double helix ensure the efficiency and stability of the stationary tar mixing plant. The bidirectional spiral blade can mix the aggregate as even as possible.
Electronic Control System
With the help of Simens PLC and Simens electrical components, the control becomes easy and convenient. Simulation operation screen can imitate each system's performance, which contributes to detection.
Why LUTON Stationary Asphalt Plant Is Highly Praised?
"It is really hard for us to choose the manufacturer. After comparing numerous companies, we chose LUTON. No matter in aspects of asphalt production or dust collecting, the stationary bitumen plant's high performance impressed our team a lot. The truth tells us we made a right choice."

– Sudomo Wira Widjaja from Indonesia
---
"I can't believe how amazing LUTON's stationary asphalt hot mix plant it is. The output is so large and the quality is so good. In this price range, I think LUTON's product ranks NO.1."

– Austyn Sidney Alimboyugen Romero from Philippines
How Does a Stationary Asphalt Plant Work?
①The cold aggregate in cold feed bins is transferred to the drum dryer through the conveyor belt.
②In the drum dryer, the cold aggregate is dried and heated in parallel flow or counter flow.
③Then the heated aggregate is elevated to mixing pot with the help of hot aggregate elevator.
④The vibrating screen distributes the aggregate into different kinds and then transferred it to the mixing tower where the aggregate is weighed.
⑤At this time, the weighed aggregate, filler and bitumen are mixed in the mixing pot.
⑥Finally, the end product is stored at the asphalt storage.
⑦During the process of heating, dust pollution will be collected by the gravity dust collector and the bag house collector.
Take Care of Your Equipment
Good maintenance has a direct relationship with the quality of end product as well as the service life of equipment. It is really important to grasp the knowledge of maintenance.
Here are some tips.
1. Firstly, before the start of the operation, the residual material should be removed. Then start the machine with no load until the machines works properly.
2. Secondly, supervisors should be arranged to trace and check the operating status of the machine in case of malfunction. Once something does not work well, the supervisor should make an instant adjustment.
3. Thirdly, after each operation, the overall care and maintenance is needed. For example, components that run at extremely high temperature should add lubricating grease.
4. Last but not least, do not forget to note down the unusual situation during the process of maintenance for later reference.
All in all, the care and maintenance of the stationary asphalt plant is a long-term work, which requires carefulness and patience.
Get Answers from LUTON
1. What is stationary asphalt plant?
Stationary asphalt plant means the work site of the equipment is fixed and the silos and mixing pot need to be fixed on the concrete base.
Usually the output is large, so it is suitable for the national highway and expressway.
2. How hot is asphalt when it comes out of the plant?
150~180℃ (302~356℉)
3. Why does the conveyor belt deviate?
The belt is too loose or the weight of the load is too little
The position of the aggregate doesn't lie in the center of the belt.
Get a Free Quote
LUTON has been entitled to 6 national patents and numerous international honorary titles in civil and road construction equipment.

Don't hesitate to keep in touch with us today!