Cold Feed Bins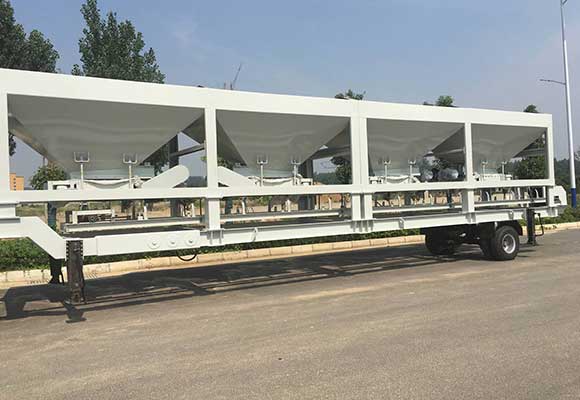 Smart system, frequency controlled, modular design, LUTON cold feed bins are effective in production and convenient in transport.
LUTON cold aggregate feeding system is composed of 1-4 cold feeder bins, feeder belt and colleting belt.
The outstanding feature is smooth aggregate feeding and low fuel consumption.
Customize what you need if you have special needs.
---
Specification
| | | | |
| --- | --- | --- | --- |
| Model | Output | Hopper Capacity | Collect Belt Capacity |
| LB500 | 40 t/h | 4 x 4.5 m3 | 60 t/h |
| LB800 | 60 t/h | 4 x 6.5 m3 | 80 t/h |
| LB1000 | 80 t/h | 4 x 7.5 m3 | 100 t/h |
| LB1200 | 100 t/h | 4 x 7.5 m3 | 120 t/h |
| LB1500 | 120 t/h | 4 x 7.5 m3 | 140 t/h |
| LB2000 | 160 t/h | 5 x 12 m3 | 200 t/h |
| LB2500 | 200 t/h | 5 x 12 m3 | 220 t/h |
| LB3000 | 240 t/h | 5 x 12 m3 | 280 t/h |
| LB4000 | 320 t/h | 6 x 15 m3 | 360 t/h |
---
Why Choose LUTON Cold Feed Bins?
1. To add convenience for installation and maintenance, our asphalt mixing plant components are all in modular design, which means the cold aggregate feeding bins are a dependant unit. Cold feeding bins with long axle makes this part easy transport.
2. LUTON feeding conveyor is fitted with frequency control regulator, allowing you to change the speed depending on the output and aggregate proportion. In addition, the variable-frequency and variable-speed motor drives the feeder belt with a controlling range of 1:25, making precise feeding and long-range automatic controlling available. 
3. The feeding belt is designed with a loop form, making the material feeding more smooth and reducing the fuel comsumption. Besides, the belt replacement is more convenient as well.
4. There is a meshed layer in each hopper gate, aiming to filter out the oversized aggregate.
5. For easy relocation, we also equip our cold aggregate feeding system with a mobile chassis.
6. Each hopper is equipped with an alarm device for material shortage warning. The device will alarm automatically to notify the operator to address the issue in a timely manner, when there is blocking or there is a short position.
7. To ensure the construction qiality and safety, protective nets and a pull switch are installed arround the silo.
---
How to Control the Dust from the Charging?
Large amount of the dust gets into the air, leading to fly ash problem and serious air, soil, water pollution, and even being hazardous to human health if you don't take measures during aggregate feeding.
How to strictly control the dusty air emission from the aggregate charging?
LUTON has our own solutions to help you out.
For better dust control, we design our aggregate batching machine with fully enclosed cover.
All the cold feed bins are installed with ventilation door and vehicle detection device. When the loading operator is detected, the targeted ventilation door opens automatically.
At the same time, the dust removal module of the batching machine collects the floating dust. When the operator is detected away from the bins, the targeted door closes.
---
Common Troubleshooting of Batching Equipment 
1. Belt Damage
This problem arises from the following possibilities.
– Belt runs off track. This is caused by the slipping of the belt or different belt tension. Check the belt situation before each operation. Stop the production and maintain/replace the belt if the problem is serious.
– Severe scratch. For some occasions, the cold aggregates may be stuck in the belt gap. At present, the belt still goes on and must be damaged gradually. Consider a wear-resistant belt or a dilated belt when purchase.
2. Charging Problem
Charging problem, to a large extent, means that the variable-speed equipment quit working. 
For this phenomena, it may be caused by the fact that too little raw aggregate material is stored in the cold aggregate hopper.
Feeding sufficient aggregates is fine.
3. Abnormal Noise
Unusual noise may be resulted from overloading. Check the bearings regularly and change them if necessary.