Asphalt Batch Plant vs Drum Plant
Asphalt mixing plant is a group of component machines to produce hot asphalt mixture through the process of feeding, heating, screening and mixing. In terms of road construction, the batch plant and drum plant are two basic asphalt mixing plants. Prominently, the processing plant can be categorized as batch type and drum type asphalt mixing plant. Let's move on to asphalt batch plant vs drum plant.
Asphalt Batch Plant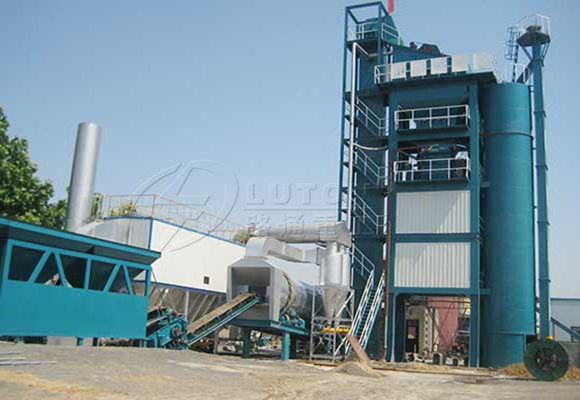 Asphalt batch plant is a type of machine that can manufacture hot asphalt mixture in batches every 45 seconds. The whole process is mandatory. 
Components
Cold aggregate supply system
Rotary drum with burner
Bag-house filter and cyclone dust catcher
Vibrating screen
Hot bins with compartments
Weigh hopper
Pugmill
Mineral filling material supply system
Bitumen supply system
Bucket elevator
Belt conveyor
Control room
Advantages
1. High component specification adjustability during production process.
2. Precise measurement and stable oil-stone ratio results in exceptional finished products.
3. Able to add types of additives, even the anti-stripping agent.
4. Environment protection due to the dual levels of dust catching machines.
5. Fully automatic control system.
6. Able to recycle the fine particles from the bag-house dust catcher.
7. Higher mixing capacity.
Disadvantages
1. High initial investment.
2. Can't manufacture hot asphalt mixture continuously.
3. More land occupancy.
4. High maintenance cost.
5. Need to lay concrete foundation.
6. High fuel consumption.
Application
1. Suitable for contractors who work for many clients simultaneously.
2. Great for contractors who have a large fixed production area.
3. The first choice for the high-grade road construction.
4. The capacity range of 40 t/h to 320 t/h makes LUTON asphalt batching plant perfect for any sized construction and patching projects.
---
Asphalt Drum Plant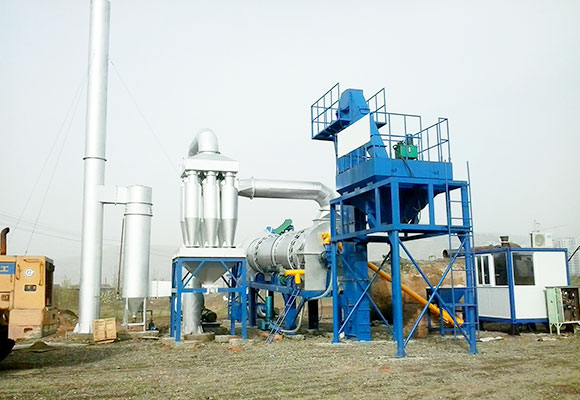 Drum type hot mix plant processes the finished products through a restless method.
Calling for the highest quality asphalt mixture as of batch type produced, you need to pay much attention to the quality and size of the virgin cold aggregates.
Because in drum asphalt mixing plants, there is no vibrating screen to categorize the uniform aggregates and no special weighing system to weigh the aggregate to a specified proportion.
Types
LUTON drum asphalt plants are divided from the view of mixing method and portability.
For the mixing methods, drum asphalt plants from LUTON Group is categorized as single drum continuous asphalt plant (20 t/h to 80 t/h), continuous double drum hot mix plant (20 t/h to 80 t/h) and batching mode double drum asphalt plant (10 t/h to 30 t/h).
Regarding to the portability, drum mix plants covers stationary drum mixing plants and mobile asphalt drum plants.
Components
Cold aggregate containers
Drum dryer and mixer
Dust collecting system
Bitumen supply system
Conveying belt
Control room
Advantages
1. Modular design that makes the maintenance, repair, cleaning and installation easier.
2. Continuous working mode gets you non-interruption production.
3. Simple structure creates a small foot print in production area.
4. Less energy consumption compared to the batch type.
5. Convenient for installation and transportation.
6. Low operation cost.
7. The recycling capacity of old asphalt pavement is strong.
Disadvantages
1. The quality of finished products is not as excellent as the batch type.
2. No accurate screening and weighing components. High demand of aggregates are required if you want high quality asphalt mixture.
3. The whole process is continuous, thus, you can't adjust machine parameters for high quality finished product.
4. Most drum type equipped with a wet dust catcher, unfriendly to environment.
Application
1. 10 t/h to 80 t/h means the drum plants are best suited for small and medium sized work sites.
2. More suitable for projects in developing countries.
3. Small road construction and rehabilitation projects.
4. Construction sites that require continuous production.
---
Asphalt Batch Plant vs Drum Plant
There are some distinguishing points the differentiate drum types from batch asphalt plants.
Let's start with details!
Output
Drum asphalt plant has a capacity of 10 t/h to 80 t/h, suitable for small sized job sites.
Batching asphalt plant is able to produce 40 ton to 320 ton hot asphalt mixture per hour depending on the different models.
Heating and Mixing Method
In drum type, there is no interruption in process of heating and mixing, therefore, the production of finished products is continuous.
While, as for the batch type asphalt mixing plant, the whole process is mandatory in batches.
Weighing System
In drum asphalt plant, there is no specially used weighing systems. The cold bin hopper meters the appropriate amount of aggregates and the calibrated conveying system roughly measures the bitumen cement and mineral filling material.
However, batch type plants are equipped with a professional weighing hopper (which adopts load cells) to ensure accuracy.
Mixing Capacity
Compared with drum type hot mix plants, the asphalt batch mixing plant has a better and stronger mixing capacity since in the batch type, the mixing process is carried out in batches.
In addition, the drum plants mixes the aggregates resulting from the rotation of the drum and the copy boards inside.
In the batch asphalt plants, the mixer fitted with double arms and helix, ensuring a powerful blending.
Pollution Control
Since batching type is built with dual level of dust catching systems, the batch type is more friendly to environment.
Always being equipped with a wet dust filter, the drum asphalt plant, to some extent, causes water waste.
Working Process
In the drum plants, without screening and weighing process, the aggregates are dried and mixed at the same time.
In the batching mixing plants, the aggregates are dried first, then through screening and weighing for stable stone-oil ratio, uniformity and precision, the aggregates and other additives are evenly mixed for better quality.
Price
To some extent, the drum type costs less than the batching types.
Drum type starts from $40,000.
Batch type starts from $90,000.
Application
Due to the high quality asphalt mixture, the batch asphalt plant is more suitable for high-level and civil projects.
On the contrary, finished products of the drum type, is ideal for low level and rural projects.
Occupancy
Since the drum type plant has a modular design and simple structure, it has a smaller footprint (compared with batch type).
---
You may would like to move onto the page:
---